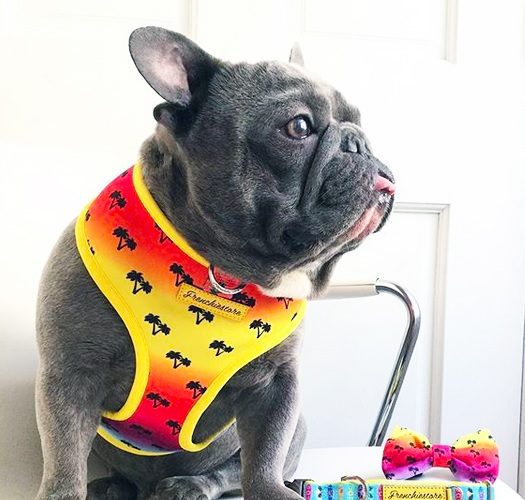 Congratulations on adopting your Frenchie Dog! You are entering into a wonderful and fulfilling relationship. Adopting a new dog brings about a lot of changes for the bouli and his owner. In this article on the essential equipment for your bulldog dog, we zoom in on:
Accessories for food, safety in the car.
The well-being of your beloved doggie at home and even in your garden and on walks.
In addition that the essentials for a regular hygiene and for an effective toilet.
The Essential Items for Your French bulldog's Meals
In our series on the essential equipment for your French Bulldog, we zoom in this article on the accessories for feeding: meal, water and candy, follow the guide!
Meal
At first, it may be difficult to find one's way around because there are all kinds of bowls, depending on the type of material, the size or the behavior of your favorite animal (too good an appetite, gluttony…). So do not hesitate to inquire well before buying. For small dogs, the dual food and water bowl module is very practical to feed and very easy to use for your pet, from an early age.
The compartments are available to store your doggie's meal and water for the whole day. And everything is convenient to clean. If you need to monitor your pet's caloric intake, the scale bowl is very suitable because you can accurately weigh what your pooch is consuming. If your dog is traveling with you, use the ultra-practical collapsible bowl to feed or drink your pooch, wherever you are.
Your doggie is a little glutton, use the special anti-glutton bowl. You will avoid obesity problems but also digestive problems: vomiting, indigestion, stomach pain. Your pooch has back or neck problems. Avoid him to bend too much to eat and take him a bowl holder which will be higher than a bowl placed on the ground.
Water
There are more and more practical water dispensers that prevent evaporation and allow your dog to have always fresh water according to his needs. The pressure legs water fountain is excellent in this: it is your doggie who, by simply pressing his legs on the pedal, will release the water. If you travel with your pet a lot, water can quickly become a problem, so we recommend that you always take water with you in a bottle that is convenient with the water bottles.
Sweets
A treat is great for rewarding your dog for his behavior and enhancing his learning progress. There too, there is a whole range of candy products; we have selected the best for you:
For a young puppy, you can reward him with a delicious bite-sized salmon cookie or, depending on his tastes, favor poultry cookies, which are easy to carry. To reward your dog, the bone to chew on is also a great idea and it will keep him occupied for a long time and in addition it is good for his teeth.