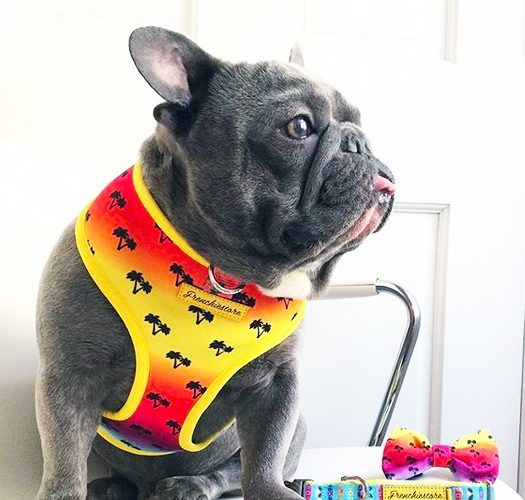 Who has never been delighted to see a French bulldog? The "bat ears" and the flattened face are the characteristics that most attract attention in this breed, besides their affectionate and playful behavior. French bulldogs are excellent companion dogs and one of the most special breeds in existence. His funny face and temperament amuse people a lot.
French bulldog's origin is not only associated with France. England and the United States are also part of the breed's emergence, as they were taken from the United Kingdom to France in the 19th century. Raised as rat hunters, they gained prominence when they appeared in some famous paintings. It was also common to find Frenchie dog as companies of coachmen and butchers. While in France the little ones were developed with more freedom, it was in the United States that the famous "bat ears" became a requirement for the breed standard.
Get to know some characteristics
With a broad, flattened snout and wrinkled skin, Frenchie is characterized by having a short and strong coat. The body shape is compact, robust and muscular. They have a large, wide and square-shaped head. The eyes are dark with a rounded shape and the hind legs are larger than those in the front. The tail is short and "glued" to the body, being thick at the base. The color pattern for the French bulldog's hair is fawn, brindle and white. Healthy and adult dogs of this breed weigh between 8 and 14 kg, measuring between 30 and 36 cm. French bulldogs live, on average, from 11 to 14 years.
Behavior and temperament
It is a great companion dog and can also act as a guard dog. They are active, mischievous, fun and love to play with children. Besides being intelligent, they socialize very easily with people and other dogs. Get ready for bedtime, as French Bulldogs snore. It's very cute even at sleep time. Although they can live in small places like apartments, it is recommended that they do daily physical activities. With all these characteristics, the French bulldogs are also very loyal and protective of their owners.
During the night keep him in an even more restricted place to decrease the chances of him doing his needs too far from the target place. Keep his bed and water pot at a good distance from the bathtub because dogs are demanding in this regard: they do not make their needs where they eat.